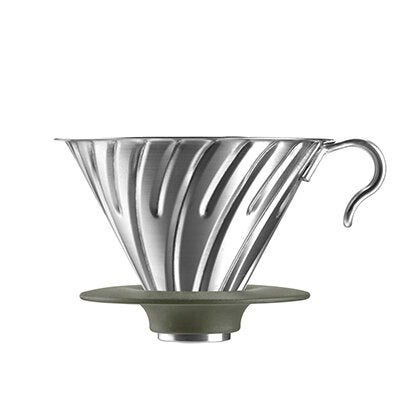 V60 Metal Dripper
V60 Metal Dripper
 

ARTICLE NO.

O-VDM-02-HSV

COLOR

Hairline Silver

SIZE

W 145× D 120× H 90mm 120Φ

WEIGHT(incl. individual box)

approx.200g
MATERIAL

Body: Stainless Steel
Holder:Silicone rubber

CAPACITY

1-4 cups

COUNTRY OF ORIGIN

Japan
About Hario
HARIO has been planning, manufacturing and selling heatproof glass
since its very inception — and is the only manufacturer with a heatproof glass factory in Japan.
Initially, they manufactured and sold laboratory glassware.
But in 1948, and began making coffee siphons by taking advantage of the properties of heatproof glass and our refined glass processing techniques. they later expanded into a wide range of popular home products made from various materials.
Since the 1980s, they've been producing industrial glass for automotive light lenses.
They also offer items for coffee and tea (black, Japanese and herbal),
as well as microwave-safe cooking utensils and other kitchenware.
In the next 100 years, they want to continue enhancing the lives of everyone who loves HARIO and keep creating products that people consider their favorites.