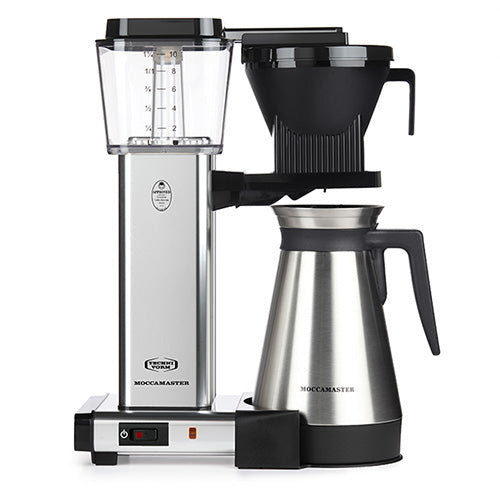 Moccamaster - The thermal carafe Brewer (KBGT)
The classic and most trustworthy coffee brewer
The Moccamaster KBGT model is the classic and most trustworthy coffee brewer for home and small offices.
The Coffee machine features a thermal carafe and a manual- adjust, drip-stop brew-basket which allows you to adjust in how fast coffee flows into the carafe.
The KBGT brews a full 1.2L pot of coffee in six minutes. The thermal carafe will keep your coffee hot up to an hour. The Moccamaster Coffee Brewers are handmade in the Netherlands.
Product specifications
Weight: 2.7 kg
Dimensions:Height: 15.25" / Width: 11.5" / Depth: 6.75"
Brew-basket Style: Manual-Adjust Drip-Stop
Body Style: Rectangular
Material: Metal / Plastic (BPA/BPS/BPF & Phthalate Free)
Volume: 1.25 Liters / 40 Ounces / 10 Cups
Volts: 220V
Watts: 1400W
Power Switch: Copper Element is Auto off after brew process, light switch will remain on
About Technivorm Moccamaster
Technivorm Moccamaster is a manufacturer of premium quality coffee brewers and grinders. All Technivorm products are handmade in the heart of The Netherlands, and certified by the Specialty Coffee Associations of America and Europe (SCAA/SCAE) and granted the European Coffee Brewing Center's (ECBC) Seal of Approval meeting their strict "Golden Cup" quality guidelines.
Technivorm Moccamaster suggests these are the key elements when searching for a coffeemaker: Temperature, Saturation time, Reliability, Longevity, Warranty, Cleanability, Recyclable and Sustainable.
The philosophy of Technivorm Moccamaster's inventor, Gerard C. Smit - to product long-lasting, reliable, energy efficient, and recyclable products - has guided the handmade production of every Technivorm Moccamaster, for the past 50 years, offering a sustainable choice.